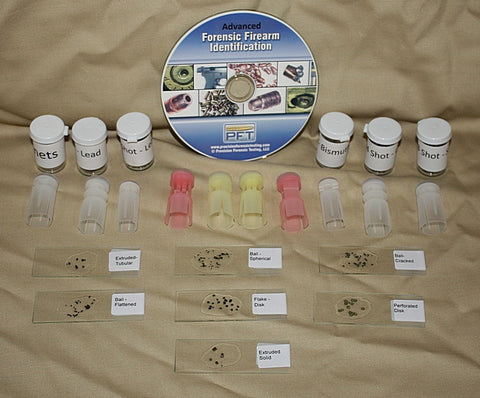 This kit elaborates on topics introduced in the Firearm ID kit. In particular, this module examines the areas of gun powder and shotgun ammunition in depth. The various types of gun powder, their characteristics, and how this information is used to solve crimes is included in the Power Point lecture. 
The second topic examined in depth in this kit is shotshells and their components. Different compositions of shot, the various sizes, and specialized ammunition such as slugs are covered in the Power Point lecture. The information provided in the lecture provides the basis for two of the laboratory exercises. Basing laboratory exercises on the information presented in the Power Point helps to reinforce the information.
As with the other kits designed by Precision Forensic Testing utilizes real samples and actual crime laboratory procedures to reinforce the lecture Power Point. This presentation includes two case studies where gunpowder and the shotshell components played a vital role in the case.
The Forensic Firearm Identification Kit is a perquisite for ordering the Advanced Kit. The material covered in both the lab and lecture is based on background information covered in the Forensic Firearm Identification Kit.
The components of the Advanced Forensic Firearm Education Kit allow for three different laboratory exercises. These laboratory exercises encourage the activity based skills of observation, measurement, mathematics, microscopy, and chemistry.
One kit will easily serve 24 students (based on students working in pairs). Additional calipers are available for purchase and strongly recommended. The shotgun shot lab exercise relies on accurately measuring the shot. To provide the maximum value to you, the shot is reusable.
Each kit includes:
7 samples of gunpowder

5 samples of shotgun shot

10 shotgun wads

Power Point Presentation for teaching Advanced Firearm Identification

Power Point Presentation for teaching Lab Techniques

Teacher Notes

Three Laboratory Exercises

Computer Database of 250 Shotgun Wads
Related Products
---