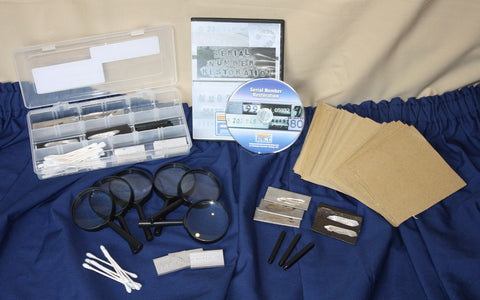 Serial Number restoration is an important aspect of Forensic Science.  Serial numbers are often obliterated in an effort to hinder proof of ownership.  Because of this, it is necessary to restore numbers on objects.
Precision Forensic Testing strives to provide "real world" samples for students to use in their laboratory exercise.  With that in mind, each kit includes 16 samples of steel with numbers initially stamped on them then obliterated. 
Each kit also includes a lecture Power Point presentation with high quality photographs and two video clips of serial number application.  Two case studies are included with the Power Point to elaborate on the importance of serial number restoration.  Teaching notes outlining key points pertaining to the presentation are also included.  Worksheets and teaching instructions are provided with the kit.
One kit will easily serve 24 students (based on students working in pairs).  To provide the maximum value to you, all of the samples are reusable.  Additional samples are available for larger classes.  Extra samples are also advisable when running back-to-back classes due to the time necessary to re-obliterated the numbers.
The inclusion of a stamp set with the kit ensures the samples can restamped by the teacher and used an indefinite number of times.
The magnifying glasses can aid students in observing the numbers during the restoration process.  If more magnifying glasses are needed, they can be purchased separately.
The PowerPoint presentation includes five different formulas of acid enchants for use in the laboratory exercises.  The only thing not included with the kit is chemicals.  Some components of the reagents may not be common to school laboratories and must be purchased separately. However, these are available from any scientific supply company at reasonable prices.
The kit includes:
Power Point Lecture
Power Point Laboratory Exercise
16 samples of steel with obliterated serial numbers
Six 2 inch glass lens 8X magnifying glasses
16 pieces of sand paper
Cotton swabs
Four pieces of aluminum with intact serial numbers for demonstration
9 piece stamp set for reapplication of serial numbers
Related Products
---