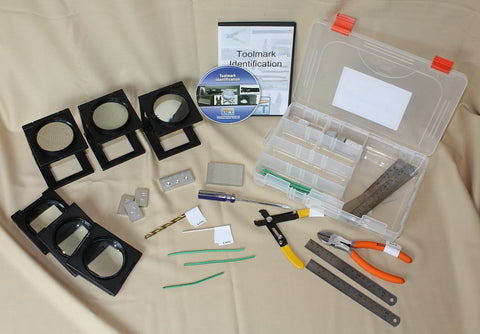 Tool mark identification examines the interaction of tools and objects they come in contact with.  This can be a vital piece of evidence in a crime scene.
This module explores the various types of tools, marks made by those tools, and the comparison process used in analyzing tool marks.  Also included in the detailed Power Point lecture are videos of the manufacturing process for various tools.  Providing students with a comprehensive understanding of the manufacturing of tools will help them understand the source of the marks made by tools.  This is the fundamental type of education given to forensic scientists during their training.
The four lab exercises included with the kit are based on actual cases encountered in crime laboratories.  Also, the samples provided will easily serve 30 students with minimal downtime.The magnifiers are essential in observing tool marks. The kit comes with six, however if more are needed, they are available for sale with the purchase of a kit.
Kit includes:
Power Point Lecture
Power Point Laboratory Exercise
Four laboratory exercises w/handouts
Two sets of 5 stamped numbers for laboratory exercise
Screwdriver and evidence sample for laboratory exercise
Wire cutters
Diagonal Cutters
One evidence wire and 10 sections for making test marks for lab exercise
Drill bit and evidence sample for laboratory exercise
Six magnifiers (may vary from photo depending on availability)
Six 6" stainless steel rulers
Test bank of questions based on lecture
Related Products
---